Bio/Statement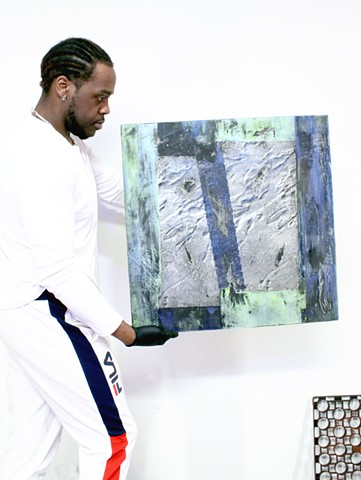 Darian Longmire is a mixed media artist based in Brooklyn, NY. He completed his MFA candidacy in upstate New York at SUNY-Albany in 2018. After moving from the Midwest to the Northeast, Darian began to combine his print based work, which explored physics, philosophy and outer space with wider ideas about time and space. Eventually discovering the close connection to sci-fi and techno-culture, his research and ideas from the past have naturally developed into a larger artistic framework.
Rather than using cultural identity as a driving force for his practice, he instead chooses to articulate the dichotomy of blackness through invisible matter, black holes and time warps. His visual language has formed through years of studying digital processes, drawing, printmaking and design. Darian is not a revisionist but rather a remixer, re-appropriating satellite images from NASA, where he utilizes his skill toolbox to create a world of abstraction. His recent explorations in the studio have been impacted by what he describes as living through a time distortion.
Darian's Convoluted Magnetism series is inspired by his interest in using physics and outer space concepts to create new political realities. The artist immediately responded to the precarious moment during 2020 by challenging the idea of the fixed image. Where before, his image investigations had been more rigid and compositional. The artist now asserts, "there is nothing predictable or stable or linear, we are caught up along the currents in the magnetic field of the earth as they shift and tangle". Expressed this way, the forces we experience here on the earth are real on multiple levels. The series incorporates digital prints, painting, sanding and drawing to produce a more deteriorated view of history.
Darian has successfully exhibited works in a number of shows including "Yelling at the sky", curated by La Keisha Leek at The Gaylord & Donnelley Foundation in Chicago IL. (2016), "Time Camp", curated by Black Quantum Futurism at Icebox Projects in Philadelphia PA. (2017), as well as "What is leaping in your chest?" curated by Alexandra Foradas (Mass MOCA) at Collar Works gallery in Troy, NY. (2017). He was awarded Best in Show for his thesis exhibition, "Blackness was in the Beginning and Blackness will be in the end" by the University Art Museum at SUNY-Albany in 2018.
Darian was granted a fellowship by Spudnik Press (Chicago IL) in 2016 where he developed a more robust print based practice and community engagement through workshops. In 2018, Darian became a Teagle Grant recipient, allowing him time to develop museum based pedagogy for research while completing graduate school.
On his work, critiques have shared their perspective;
"The Cosmographic Flags made by Darian Longmire act as a symbol of a space-faring blackness, a representation of Black culture that has left earth and moved on to explore other worlds...What is notable about Longmire's flags is that not only do they create an alternate mythos but they reinforce the idea that Black culture is and always has been integral to techno-culture and technology." -Rone Shavers & Judie Gilmore, In Place of Now Exhibition at Opalka Gallery essay excerpt.
"If these directly address what this country is about, other works are more challenging or downright obtuse about it. We can speculate that Darian Longmire's Mylar teepee of sorts, with a pillow inside and some "cosmological" sounds coming from a speaker, reminds us that everything is relative, and temporary, and that maybe we, here and now, are too small to matter. Or that our personal American Dream is exactly what we make of it within the larger cosmos. Very curious stuff." - William Jaeger, Times Union 12/07/17 What is leaping in your chest review excerpt